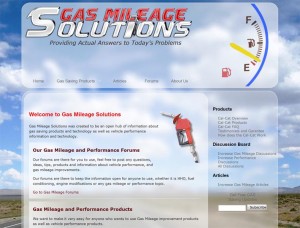 Here is a website I created for a friend. The purpose of this website is to have an open place where people can post ideas, products and technology to improve a vehicle performance and reduce gas mileage.
The idea is to spread the word about products and technology that bring about clean energy as it relates to cars and trucks far and wide, making it totally impossible for it to get hidden.
I'm pretty sure oil companies won't really like this website but then again it's not for them but for all the people that want to do something about it. You can find it at gasmileagesolutions.com.
A different website look
Designing this website wanted to create a clean and pleasant to read look (conveying the idea of clean energy) while at the same time giving a feeling of technology and science. Take a look at it and let me know what you think.