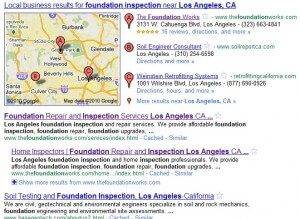 We've talked quite a bit about getting your website to show up at the top of the searches for your products and its importance; whereas website SEO is extremely important there is an additional tool that will do wanders for your business called Google Places.
What is Google places? It is a yellow-pages type tool that displays result of businesses in your area for a product or service. You probably have seen it, it shows a map with a bunch of businesses marked on it, and next to the map the businesses are listed.
Why is Google Places important? Because for local type services customers look at them more than at websites. To give you an example let's take up one of our SEO clients; look at the picture here, this is a search for "foundation inspection Los Angeles". You will see the Google Places appearing first with "the Foundation Works" listed on top and then you will see the actual Website appearing.
Creating a Google Places account is very easy, in most cases you already have one, you just need to claim it:
First create a Google account.
Then search for your company/business in Google maps.
Once you find it click "more info" and then "edit this place"
Now you can Optimize the listing to make it show up in the searches for your products or services.
If you can't find it in Google maps you may need to go to Google Places and create a new listing.