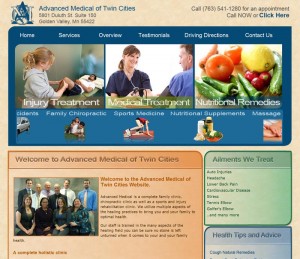 Chiropractic, Medical and Massage website online
Here is a new website for a Holistic medical, chiropractic, massage and injury treatment clinic in Minneapolis. You can go to the website directly at www.advancedmedicaltc.com
The design was done to keep a colorful friendly look while at the same time provide enough information to assist existing patients and new patients get the treatment that they needed.
The Search Engine Optimization for it is geared for both general treatment and auto injury type of patients.
We have included pages on individual ailments linked to their treatment to help potential patients find what they are looking for.