Webstore Design and Integration
A webstore is a website that sells products or services. It differs from a regular website in that it gives you the ability to purchase items right in the store; it includes a shopping cart and a way to pay for the product.
Webstores can be standalone websites (meaning the whole website is just the webstore) or can be incorporated in other websites (for example you could have a website that features your full business and then have a webstore to purchase some products that you have available online).
No matter what your need is, we can take care of it. We can build full webstores from scratch or add webstores to existing websites.
Some features we include with all webstores:
User friendly back-end interface: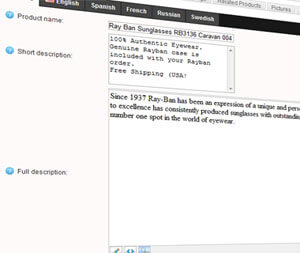 Our webstore administrative interface is where you can upload new products to your store, change prices, add categories and a lot more.
Having to contact a web programmer every time you need to change something on your webstore would be costly, we give you a user friendly interface where you can do this in seconds with no internet or programming experience needed. You'll be able to run specials, change products, offer services, products, subscriptions as well as sell downloadable products all automatically at the click of a button.
Sales and Inventory Tracking:
Out webstore interface allows you to track your inventory, your sales, your sales tax, your shipping and a lot more.
If you use QuickBooks a simple interface allows you to synchronize your webstore information with your QuickBooks information saving you time and money.
Customer Account Management
Each customer has the ability to create their own account and keep securely their information. Customers can view their past orders, choose preferences and a lot more.
At checkout the customer is given the option to create an account or just do a one time order.
Store News and Forums (optional free)
Our stores have the ability to have their own blogs and forums, giving you a very simple interface to post news about your product and provide your customers with support forums.
Store Search Engine Optimization (optional, additional fees apply)
Our stores are 100% Search Engine friendly and have a simple automatic SEO feature. We offer optional services of having our Search Engine Optimization team set up your whole store with high ranking SEO placement. We also offer ongoing SEO upkeep to ensure you stay visible to your customers.
Due to countless factors such as competition, number of products, existing placement and many more, the SEO service price is quoted personally for your specific needs.